Whether it's getting engaged around the holidays when family is coming together (19% of proposals happen in December) or inviting loved ones to witness the actual proposal or party with you after, today's millennial couples are opting to make their engagement a highly shared experience. And even if the moment is a private one (nearly 1 in 3 engagements take place at home) the reality is a picture, story, view of the ring – or all the above – will be shared on social media for all to see within a few hours.
Engagement Ring
$5000

cost of
engagement ring

20%

pick out ring
together

71%

diamond as
main stone

1 in 2

purchase ring <2 months before proposing

50%

purchase from

brick-and-mortar

store
Top Engagement

Dates
Christmas Day continues to be the most popular day to get engaged, with 7 out of the top 10 most popular days to get engaged taking place in December.
Did you know? The majority of couples are engaged for over a year, with the average engagement length lasting 14 months.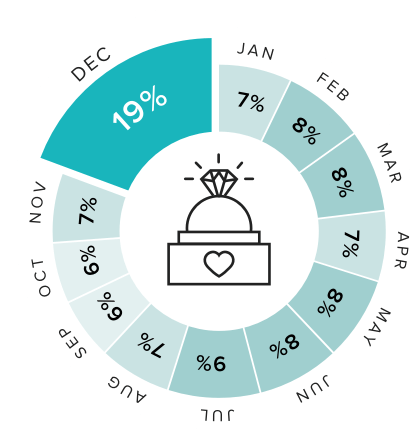 The Proposal
75%
get down on

one knee

when proposing
Among Millennials
64%

share their engagement on social media within a few hours

52%

send a photo of their ring to loved ones after getting engaged

31%

of proposals happen at home

26%

invite friends/family to witness proposal
Couples' love affair with fall continues, as nearly 40% of all weddings take place during these three months. In looking at couples who got engaged in 2018 and set a date to get married in 2019, October is looking to be another popular month to tie the knot.
Top 5 Wedding

Dates

in 2019
1

October 19

2

September 14

3

May 4

4

October 12

5

October 5
1

October 20

2

October 6

3

September 22

4

May 19

5

October 13
1

October 7

2

October 14

3

September 30

4

October 21

5

November 11
1

October 22

2

October 15

3

October 8

4

November 5

5

September 24
2019

Wedding Month

Distribution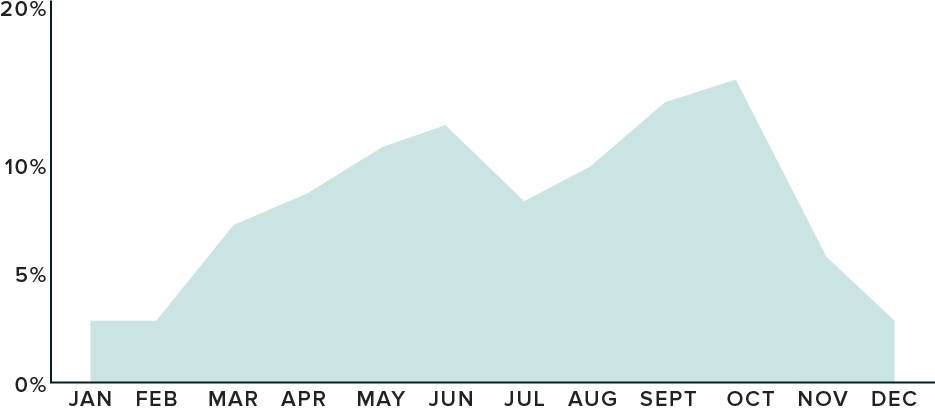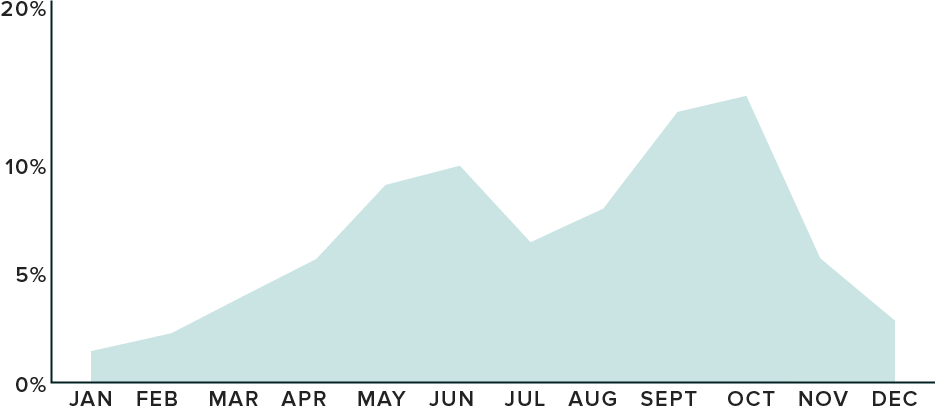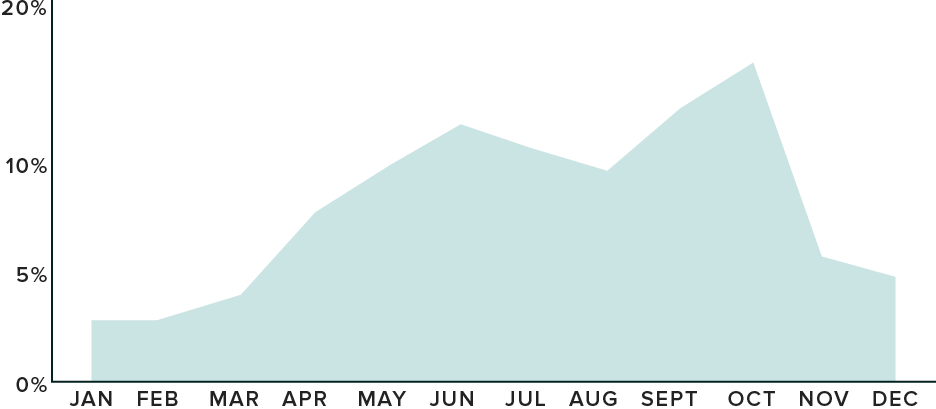 2019 dates based on couples engaged in 2018 who set a wedding date in 2019

Millennials, who are often referred to as the 'instant gratification' generation, make no exception when it comes to wedding planning. Not only are the majority of millennials doing recon on their wedding PRIOR to getting engaged, but right off the bat they're looking for checklists, budget tools and help on where to start in order to be efficient in the planning process. This generation (who accounts for 80% of today's marrying couples) is driven to get things done with a digital-first mindset (think: planning on mobile apps, researching vendors and even utilizing digital RSVPs to name a few).
2 out of 3 millennials
take at least 1 wedding planning action prior to getting engaged
Top Pre-Eng Actions

Among

Millennials
35%

look at wedding

dresses/attire

online

30%

create a Pinterest board for inspiration

25%

research venues
Where is Planning Done
On average, couples spend nearly 2 hours a week planning their wedding and spend 80% of their time planning online. When looking at online planning behaviors based on time of day, mobile usage peaks from 9PM – midnight after couples are home from work and often multi-tasking, though Sunday is also a popular planning day on mobile.
80%
of planning is done online
39%

plan on mobile

41%

plan on desktop/laptop
What Are People

Searching For
+

Top Search Questions on Google for

Wedding Planning
WeddingWire partnered with Google to glean insights into what couples most often search for when they begin wedding planning. Results show that couples simply don't know where to start, which is also one of the top reasons they join WeddingWire.
how to start planning a wedding

how to start a wedding planning business

how to start wedding planning

where to start when planning a wedding
Source: Google 2018
Top 10 Wedding Search Terms

on Google
What else are couples searching for on Google when it comes to weddings? It's no surprise that searches for checklists, venues and budgets come to the top as determining a budget, finding vendors and knowing you're on the right track are some of the biggest challenges couples say they face during the planning process.

Plus, another trend they've spotted is using the search term "near me" on mobile – proving the importance of shopping local to create that personal experience. In the last year alone, dress-related searches that include the term "near me" on mobile has increased by 600%!
Top 10 Wedding Search Terms
1

wedding planner (or planning)

3

christmas wedding planner

7

wedding planning timeline

9

wedding planners near me
Source: Google 2018
Who is Doing the

Planning
Forty percent of couples start to plan their wedding less than 1 month after getting engaged. Their first actions include setting a date, researching venues and determining a budget.
27%

hire a wedding planner, with day-of-planners being the most popular type.
(based on females in heterosexual relationship)
What Couples Look For

When

Finding Vendors
Aside from price, reviews and photos are the most important features couples look at when deciding which vendors to initially contact. In fact, nearly 80% of couples find reviews to be very important in their decision making process and are more likely to consider a vendor with both positive and negative reviews than no reviews at all.
1

price

2

reviews

3

photos

4

availability

5

responsiveness

6

location
Role of Tech

Throughout

Wedding
In just a few short years, the role technology has played in the planning process has greatly evolved. Today, nearly 3 out of 4 couples create wedding websites to share information with their guests (up 15% in the last 3 years) while more than half are creating a wedding hashtag for social sharing (up nearly 10% since 2015).
Create a Website

74%

Use a

Planning App

66%

Use Pinterest for Inspiration

64%

Offer Online RSVPs

54%

Set Up Hashtag

53%
Top Vendors Hired
On average, couples hire 14 vendors for their wedding day.
90%

photography

86%

venue

80%

hair & makeup

78%

wedding dress

76%

cake

74%

flowers

72%

DJ

Individuals are continuing to get married later in life (average age 33) due to prioritizing other aspects such as education, careers and even travel. Often times these major milestones include exposure to a new city and meeting new people, which is why it comes as no surprise that nearly 6 out of 10 newlyweds marry someone with a different background. While all couples are unique, the blending of these backgrounds is something that couples often highlight in their wedding through ceremonial traditions, food and even décor.
Couple's Journey to

Finding

The One
23%

met through friends

55%

dated 2+ years

72%

lived together

35%

owned a pet together

54%

discussed finances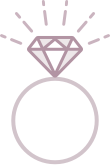 Today's Couples

by

the

Numbers
Although every couple has its own identity, we see that race, sexual orientation and/or cultural roots can create similarities among newlyweds of similar backgrounds. For instance, Asian brides are less likely to wear white than the national average, and while the size of LGBTQ weddings continues to increase (now 110), the number of wedding party members remains a bit smaller than the average wedding.
33

37

32

32

32

34

45

30

average age

of couple

126

133

219

125

119

110

100

132

average number

of guests

10

11

10

9

9

8

7

10

number of wedding party members

67%

51%

67%

70%

64%

49%

40%

74%

asked for

parents' blessing

80%

77%

43%

83%

74%

60%

74%

81%

changed

last name

82%

63%

67%

86%

81%

69%

67%

86%

at least one

wore white
Calculations based on partners with equal identifiers (i.e., same reported race).
Gen X: 1961-1981, Millennials: 1982-1996

Although weddings are all about celebrating the happy couple, couples themselves and their planning behavior show us that guest experience is just as important! From starting the day in matching 'getting ready attire' (hello, bridesmaid perk) to interactive food stations and unique entertainment (palm reading anyone?) it's all about impressing guests from start to finish and creating a night to remember.
Follow the timeline of events below to see how couples are personalizing their wedding day and incorporating new and time-honored traditions.

Wedding Party
65%

of couples get ready with their

wedding party

60%

of couples have a ring bearer

and/or

flower girl

55%

of bridesmaids get hair/makeup done by

a professional

34%

have a

mixed-gender

wedding party (ex. man

of honor)

28%

do a pre-wedding activity together

(ex. golf)
63%

of bridesmaids wear different dresses ( +18% since 2015)

Ceremony
77%

of fathers escort one or both

down aisle

70%

of ceremonies are 30 minutes

or less

64%

include a reading during

the ceremony

44%

of couples write their

own vows

25%

held in a religious institution

17%

include customs related to

race/religion

Reception
79%

incorporate their wedding colors into

their florals

52%

incorporate a wedding theme into

their décor

47%

of couples give a speech during

their reception

36%

display a wedding hashtag for guests to share images on

social media

22%

add elements based on where couples met or grew up (ex.

décor, cuisine)
Most popular tradition!

92% of couples have a first dance

(fun fact: nearly 1 in 4 dance to a country song!)

Food & Drinks
84%

do a cake-cutting ceremony

28%

have a signature cocktail (vodka being the most popular spirit)

24%

serve late night snacks

18%

have an interactive food station (ex. oyster bar, crepe station)
•
•
•
•
•
•
•
•
•
•
•
•
•

Guest Experience
69%

hand out favors (food is most popular)

25%

have a photobooth at their reception

25%

host a post-wedding after party

15%

hire unique entertainment (ex. fortune teller, wine tasting, etc)

14%

provide guests with transportation
•
•
•
•
•
•
•
•
•
•
•
•
•

On average, couples underestimate their wedding ceremony and reception budget by nearly 45%. While this may come as a surprise, 1 in 3 couples acknowledge that their inital budget is not always the most realistic and more of a starting-point (as it's often set before making some major decisions like location, venue, guest size, etc.). Sixty-five percent of couples go on to create a more detailed budget as they become educated on vendor expenses, but often times it's the personalized details and extra upgrades that contibuted to a higher overall spend. Today, couples are spending nearly $30,000 which is roughly $230 per guest.
All In Average Wedding

Cost
$5,000

Engagement Ring

+

$29,200

Ceremony/Reception

+

$4,500

Honeymoon

=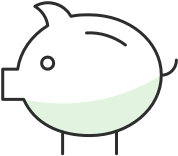 =

$38,700
Total Wedding Cost
Budget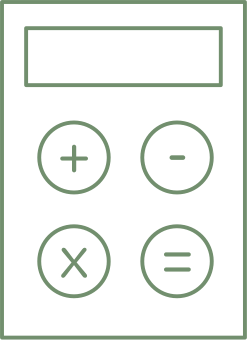 On average, couples expect to pay

$16,000

, but end up spending roughly

$29,000

on

their wedding.
Why the difference? Nearly 80% of couples set a rough budget prior to researching any vendors – often times under-estimating the cost of products and services.
Why Couples (Often)

Spend More
roughly half of couples spend more than planned
Top 5 Reasons Couples Increase

Total Cost
33%

Initial budget was set lower than reality

28%

Fell in love with things "we needed to have" during planning

25%

Added custom/personalized elements

21%

Opted for upgrades (ex. 2nd shooter, top shelf bar)
Variation in Spend
Just like couples, no two weddings are alike, and cost can easily fluctuate based on factors like age, who's paying and whether you consider your wedding to be a destination. In fact, 1 in 4 couples consider their wedding to be 'a type of destination wedding'; meaning it isn't taking place in either of their hometowns or where they currently live.
Wedding Ceremony/Reception Spend
Millennials
Gen X
$31,000
$21,000
Destination Weddings
Hometown Weddings
$32,000
$28,600
Opposite-sex Couples
Same-sex Couples
$29,500
$28,400
1st Marriage
2nd+ Marriage
$31,400
$16,400
Parents Cover Full Cost
Couples Cover Full Cost
$32,900
$24,700
Calculations based on partners with equal identifiers (i.e., age, marriage #, etc.)
2018

Average Wedding

Cost

by Category
Ceremony/Reception
Venue

$9,000

$9,000

$9,000

Catering

$6,700

$6,600

$6,700

Band

$3,900

$3,800

$3,700

Photography

$2,400

$2,400

$2,400

Wedding rings

$1,900

$1,800

$1,800

Wedding planner

$1,850

$1,700

$1,700

Rehearsal dinner +
additional meals

$1,800

$2,000

$2,000

Videography

$1,800

$1,800

$1,700

Flowers

$1,800

$1,700

$1,800

Event rentals and photobooths

$1,700

$1,700

$1,700

Dress

$1,700

$1,700

$1,600

Lighting and Décor

$1,400

$1,300

$1,300

DJ

$1,200

$1,200

$1,200

Transportation

$1,050

$1,000

$1,000

Wedding party attire

$800

$750

$700

Hair and makeup

$650

$550

$500

Ceremony music/musician

$600

$600

$600

Wedding party gifts

$600

$600

$600

Invitations/stationery

$550

$560

$606

Cake/desserts

$550

$550

$500

Beauty and Health

$550

$500

$500

Favors and gifts

$450

$450

$450

Groom's attire

$400

$350

$300

Jewelry

$300

$350

$350

Officiant

$300

$300

$300

Engagement
Engagement Rings

$5,000

$5,000

$5,000

Honeymoon
Honeymoon

$4,500

$4,000

$4,000
2018

Average Wedding

Cost

in

25 Largest

Metro Areas
City and Surrounding Metro Area
New York + surrounding
metro area, NY

$50,000

$45,000

$48,000

San Francisco - Oakland, CA

$40,000

$36,000

$40,000

Washington, DC

$39,000

$34,000

$35,000

Boston, MA

$38,000

$37,000

$36,000

Chicago, IL

$37,000

$34,000

$35,000

Baltimore, MD

$35,000

$33,000

$31,000

Houston, TX

$33,000

$28,000

$29,000

Los Angeles, CA

$33,000

$33,000

$33,000

Philadelphia, PA

$33,000

$32,000

$34,000

Detroit, MI

$29,000

$26,000

$26,000

Dallas - Ft. Worth, TX

$30,000

$25,000

$24,000

Hartford - New Haven, CT

$30,000

$34,000

$27,000

Denver, CO

$28,000

$23,000

$24,000

Atlanta, GA

$27,000

$26,000

$24,000

Charlotte, NC

$27,000

$24,000

$22,000

Pittsburgh, PA

$27,000

$26,000

$23,000

Raleigh-Durham, NC

$27,000

$26,000

$25,000

San Diego, CA

$27,000

$29,000

$29,000

Orlando - Daytona Beach, FL

$26,000

$25,000

$22,000

Sacramento - Stockton, CA

$26,000

$25,000

$23,000

Seattle - Tacoma, WA

$25,000

$22,000

$23,000

Minneapolis - St. Paul, MN

$23,000

$22,000

$23,000

Phoenix, AZ

$23,000

$20,000

$22,000

Tampa - St. Petersburg, FL

$23,000

$25,000

$24,000

Cleveland, OH

$22,000

$23,000

$22,000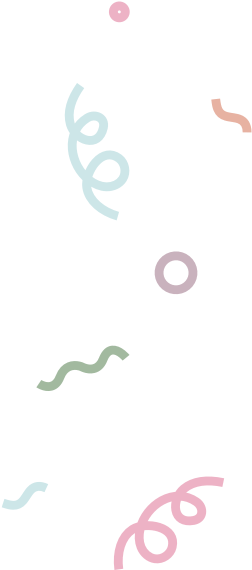 About WeddingWire's 2019 Newlywed Report
The 2019 Newlywed Report is primarily based on WeddingWire's Newlywed Survey – the largest survey of 2018 weddings in the industry (N=18,395). The data is collected from WeddingWire's annual Newlywed Survey, distributed to WeddingWire.com couples married between January 1st and December 31st, 2018. Respondents represent couples from all over the country with various ethnicities, income levels, race, age, sexual orientation and gender identity. To provide the most comprehensive view of research collected, WeddingWire has also included findings from ad hoc studies conducted in 2018, as well as behavioral data analyzed by the company's own team of data scientists. In a typical year, WeddingWire conducts research with more than 150,000 US brides, grooms, guests and wedding professionals.
Lauren Goodson

Director of Insights

Kirsten Francis

Senior Market Insights Manager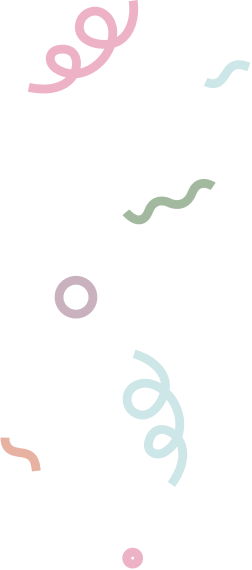 Looking for the WeddingWire 2018 Newlywed Report? You can find it
here
.