WeddingWire Messages makes it fast and easy to connect
with couples.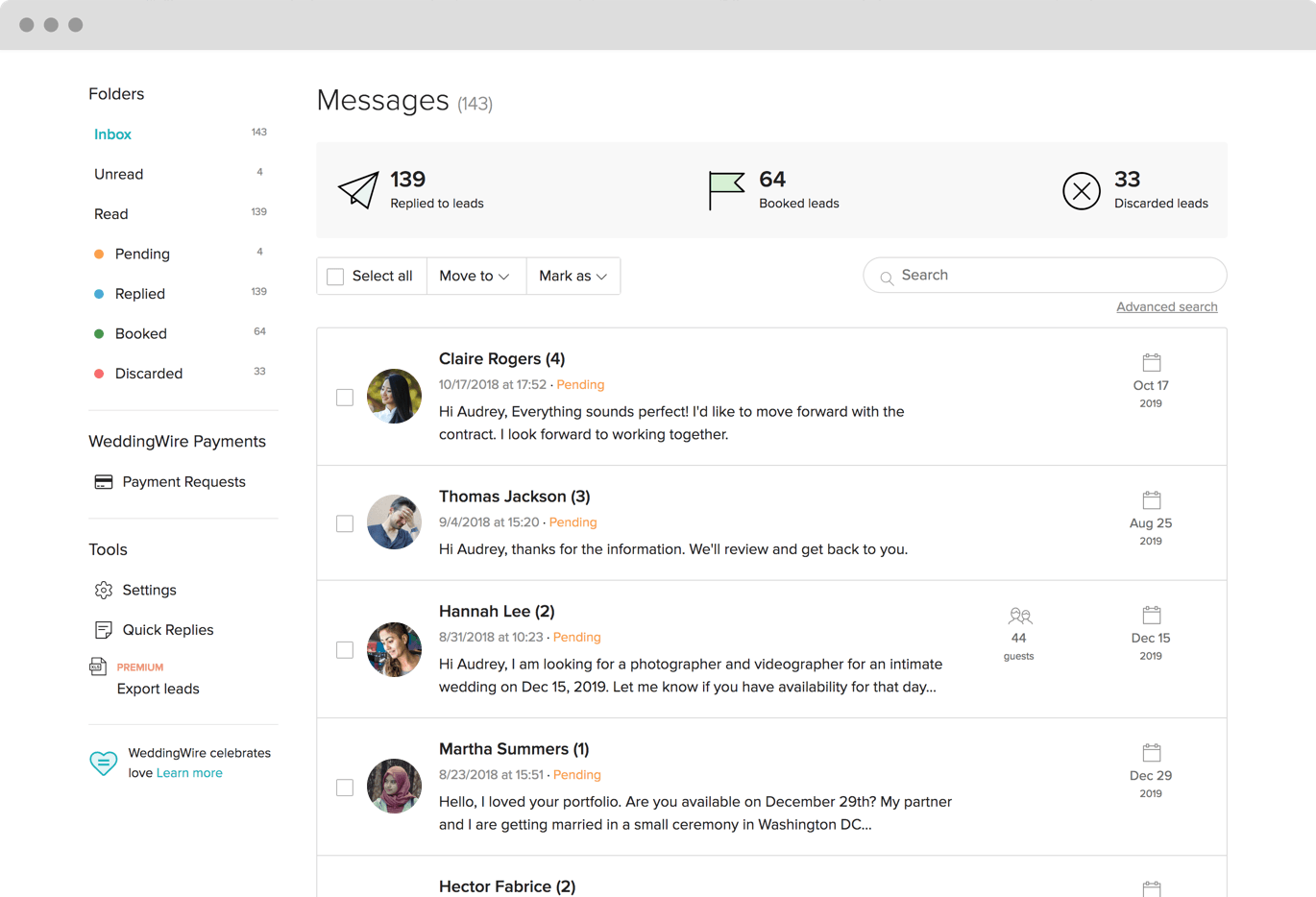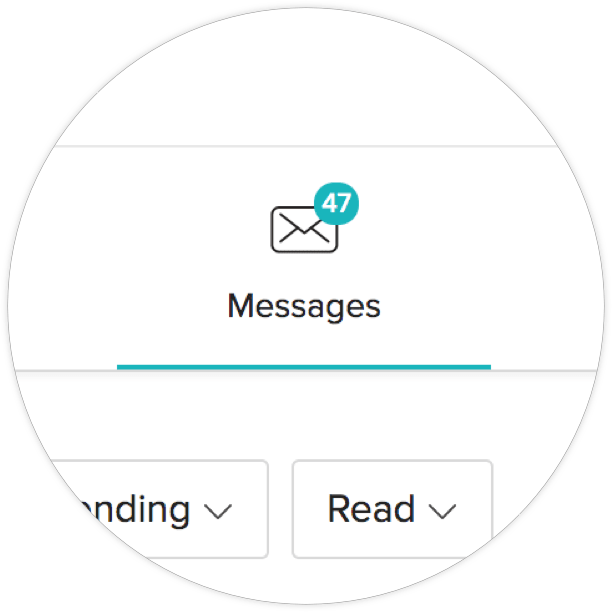 Get notified instantly
Receive a notification for each new lead or message. Couples will also get notified on WeddingWire and by email when you respond.
Manage conversations
Access your complete message history and see full conversations including client details in one place.
Search your messages
Find the conversation you need easily within your Messages list by searching for clients by name or other details.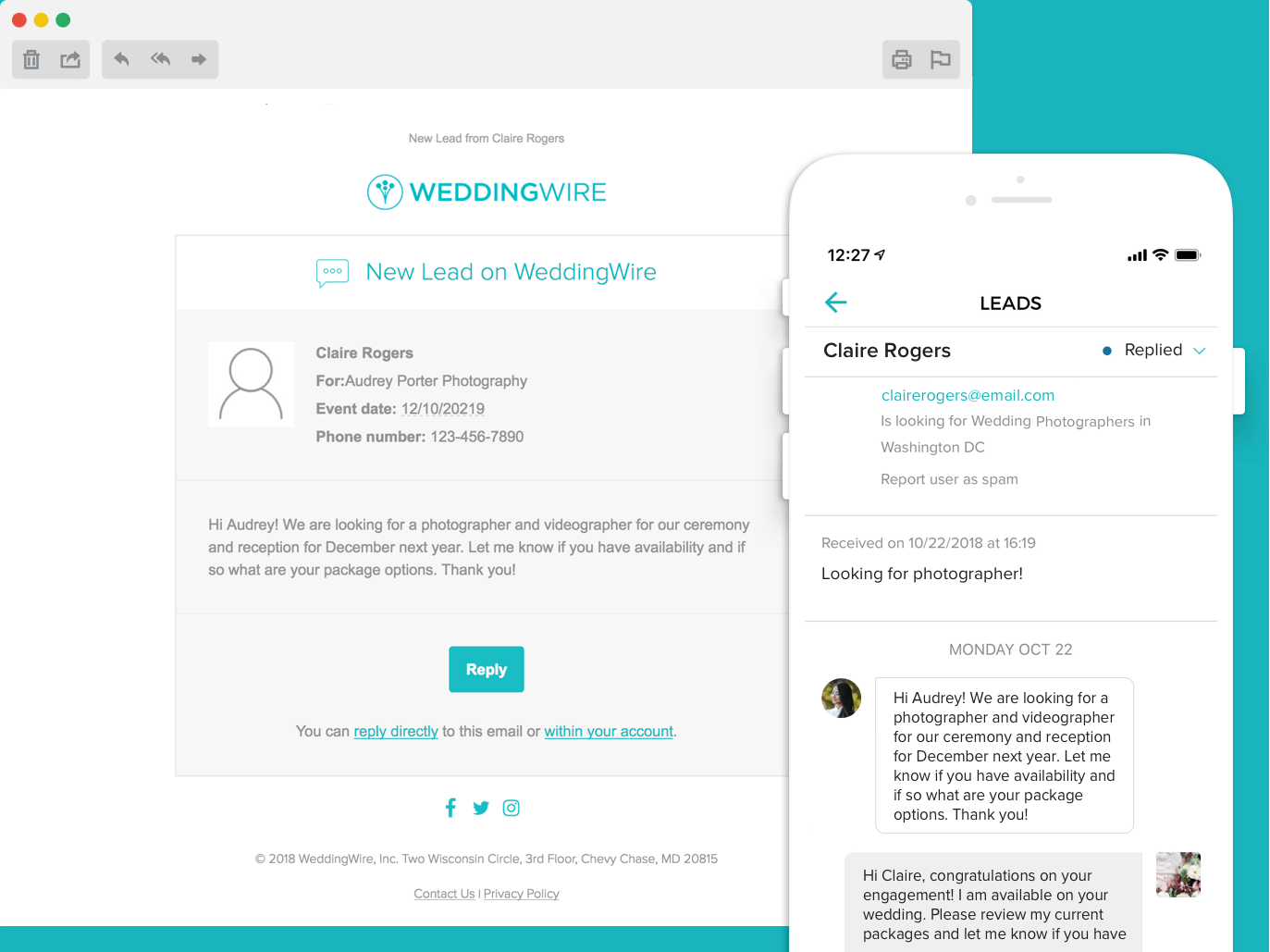 Reply from anywhere
Respond to new leads and messages quickly from your email, account, or the WeddingWire for Business app.
Send attachments
Share important documents such as price quotes and contracts within messages.
Track bookings
Easily mark clients as booked right from your messages or the WeddingWire for Business app to stay organized.
See contact information
View full contact details plus preferred contact method for leads and clients within message threads in your account.
Create Quick Reply templates
Save your most frequently used messages as Quick Reply templates to quickly and easily respond to leads.
FAQs
What is Messages?

Messages is a free feature from WeddingWire that makes it easy to connect with potential clients. With Messages, you can reply easily to leads, manage client conversations, and track your bookings all in one place.

Will I receive a notification each time a potential client contacts me?

Yes, you will receive an email notification containing each new lead or subsequent message. You will also get a notification to your WeddingWire for Business app if you have it downloaded. Your new, unread message will also be listed under Messages in your account.

Can I reply to leads or messages without logging into WeddingWire?

Yes, you can easily hit 'reply' within the notification email and respond to the lead or message right there, or you can reply directly from your WeddingWire for Business app. The message will also be logged in your Messages account for easy reference or to respond any time.

If I reply by email, will those messages show up in my Messages account?

Yes, your conversations will be organized in one place in your Messages account regardless of whether you reply via email, the WeddingWire for Business app, or within your WeddingWire account.

Does it cost me anything to use Messages?

No, the Messages feature is completely free to WeddingWire members.

Can I send and receive attachments in messages sent through WeddingWire?

Yes, attachments can be included in all messages sent via email or within your WeddingWire account. You can also read and send attachments within the WeddingWire for Business app.

Does WeddingWire require me to use an @weddingwire.com email address to correspond with potential clients?

No. You can use your own email address to correspond with potential clients. Our Messages feature is designed to make it easy for you to reply quickly to all new leads and messages, as well as keep your conversations organized in one place.

Does WeddingWire allow me to see potential clients' email addresses?

Yes. You can see potential clients' email addresses in your Messages account. We recommend corresponding with couples within Messages so that you can reply to new leads and track your conversations in one easy place.

What are Quick Replies?

Quick Replies are your saved message templates that make it fast and easy to respond to a new lead or message. In your account, simply choose an applicable Quick Reply to follow up with your pre-populated message, such as 'Initial inquiry,' 'Pricing,' 'Not Available,' etc. You can edit or add details to the Quick Reply before you send your message.

How do I create a custom Quick Replies?

You can create custom Quick Replies for your specific business needs by adding a template within the Quick Replies tab or by drafting a reply and clicking 'Save as template' for future use in your client messages.

How do you know a client's preferred contact method?

The client's preferred method is asked during their lead submission and will be shared with you in their client contact details along with their message. Clients can indicate if they prefer to be contacted by phone or email.

What can I do about spam or fraudulent messages?

It's important to be aware of the possibility of internet fraud and to protect your business at all times. If you receive an inquiry you believe may be spam or fraudulent, you can 'Report Spam' right from the message. The WeddingWire team will be alerted to investigate the potential spam, and that contact will no longer be able to send you messages.

How can I provide feedback about the Messages feature?

We value your thoughts, suggestions, and feedback about Messages! Please share your feedback with us any time, as we will continue to make future enhancements.
Additional questions? We're here to help! Contact us at support@weddingwire.com.